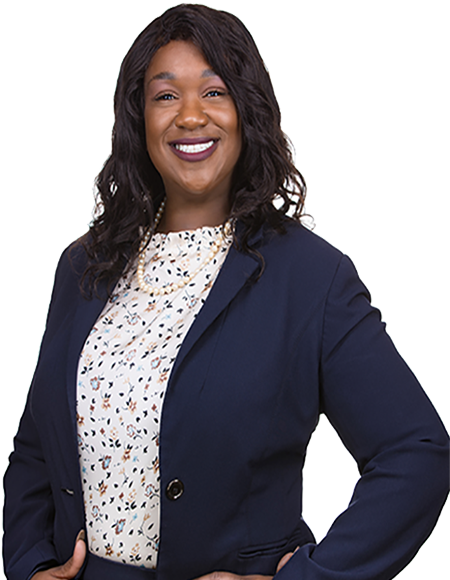 3165 McCrory Place, Ste. 174
Orlando, FL 32803
P: 407.284.4990
F: 407.857.2458
Tahirah joined Rolfes Henry as an associate in the Orlando office. Tahirah has twelve years' experience litigating both civil and criminal cases in both private and government sectors. Tahirah spent the first five years of her career litigating cases on behalf of large banks and corporations in the areas of foreclosure, evictions and post judgement title claims. Tahirah has handled more than 2,500 bench trials and has secured thousands of judgments for her corporate clients. Although Tahirah is no stranger to trial; it was during this time she became known as "the closer" due to her ability to negotiate her cases to settlement sometimes on the eve of trial.
Tahirah took her experience from the public sector into private practice where she represented numerous non-profit organizations, small business owners, criminal defense and family law clients. Tahirah dedicated the last three years of her career to representation of indigent clients in criminal matters. Her diverse experience allows her to provide both competent and holistic representation to our clients.
EDUCATION
Fordham University School of Law, New York, New York
Juris Doctorate
Honors: Brendan Moore Trial Advocates-Best Overall Advocate
Archibald Murray Public Service Award
Mercy College, Dobbs Ferry, New York
Bachelor of Science, Psychology
Summa Cum Laude, GPA: 4.00
Honors: Psi Chi Honors Society • Dean's List
SIGNIFICANT CASES
State v. Seabrooks (Aggravated Assault w/ Firearm)- Unanimous not guilty verdict
Secured an order of dismissal against an HOA in aa foreclosure case seeking over $350,000.00 in damages from the first lien holder.
Suncoast v. Smith (claim for $16,945.73 in money damages). Secured dismissal of the case for private client.
COMMUNITY INVOLVEMENT
Ms. Payne founded The Annie Lee Mathis Project, a non-profit geared toward providing housing with wrap around services for working poor residents of Manatee County involved in the legal system.
MEMBERSHIPS
Florida Bar
National Association of Criminal Defense Lawyers
Florida Association of Criminal Defense Lawyers